This past weekend, I had the honor of being a part of a memorial service. Depending on where the family is in their grieving process and who the presider is, services can vary in emotional intensity. My job, as I see it is to provide a musical soundtrack to set the tone for folks to celebrate and/or say goodbye to their loved ones.
The service I attended was dedicated to a father who exemplified a life well-lived. He was family-oriented, actively involved in his community, and sincerely enjoyed his career. His living rippled and touched many lives. His memorial was a perfect blend of laughter, tears, and inspiration. Listening to the many tributes and shared memories from family and friends, I hoped that he knew how much he was loved and appreciated.
During the service, the eldest daughter expressed appreciation for the outpouring of support. She encouraged everyone present to tell their loved ones how much they appreciate them, in specific and meaningful ways. The message was not shared in regret but as a simple reminder. I recently came across a quote that resonated with her ask: "Success breeds complacency." Our relationships,  built on openness, honesty, and reciprocity, can sometimes be taken for granted unintentionally. The human mind is forgetful and inattentive. Untethered, it can lead us to overlook the love and support we receive from those who embody the feeling of home for us.
Let's not wait until death memorials to remind us of the importance of expressing appreciation for gifts given. Instead, let us seize every opportunity to tell our loved ones and those who are part of the daily landscape that makes our lives sweeter how much they mean to us. Sharing our appreciation of others' influence and gifts to our lives enriches everyone involved with depth and meaning. The act of expressing our gratitude and affection has the power to breathe life into everyone it touches.
So bring it on! Bring on the "thank you" and the "you rock because..."!
There is no F grade in this department. Every one gets an A+.
Now go, be fabulous!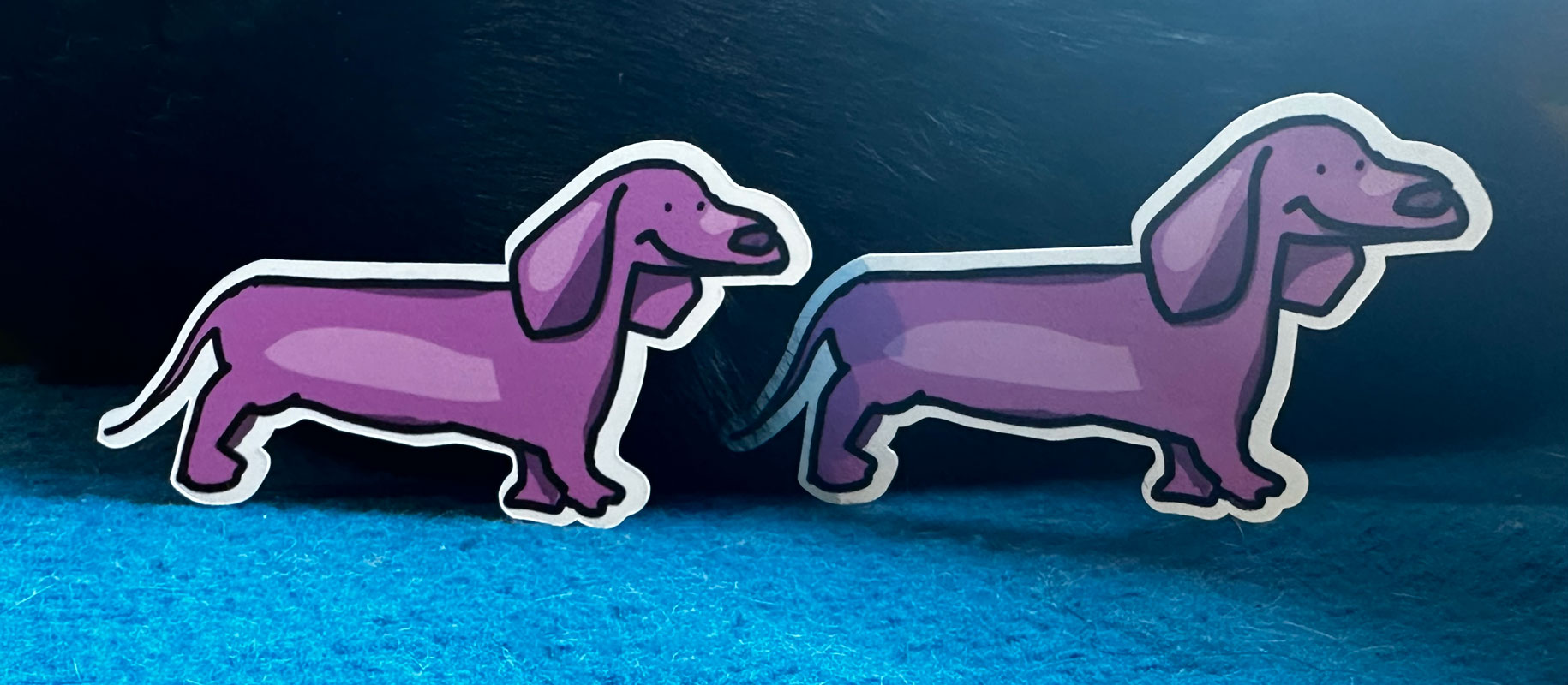 One of my favorite people Kizzie Jones, saw my cat stickers online and asked: "Where are the pups?"
Well, ask, and you shall receive! Kizzie loves Dachshunds.  What other critters do I need to draw?
Upcoming shows
There are some fun shows coming up in November; please visit lavonhardison.com for more details.
Monday, November 6th Eagles Club, Olympia -Go here to RSVP: https://fb.me/e/Tf3XdF9c
Wednesday, November 8th, Table 47, Gig Harbor
Saturday, November 25, Frederick Holmes Gallery, Seattle  
I hope to see you at one (or more!) of these!