"

A stylishly eclectic singer, Hardison is an artist for whom the song is king. She's the type of interpreter who knows how to put across the emotion and subtlety in a melody without overselling it, and she has a talent for getting inside the story that each song tells."
— Andrew Luthringer, Earshot Jazz
Singer LaVon Hardison is known in the business – by musicians, venues, and audiences – as a mesmerizing performer, a reliable collaborator, and an ambassador of joy. 
It's true: listeners love LaVon. She has glowing vocals and an effortless command of the stage. She offers fresh interpretations of classics and has an authentic, true-love relationship with the audience. 
One of the most refreshing things about LaVon is that she knows she's not in it alone. A longtime collaborator with a stable of the region's most highly regarded instrumentalists, she approaches her shows by working closely with others to create irresistible arrangements for shows that are a really good time. 
She rolls out dozens of them each year: Polished, accessible jazz and jazzed-up pop and classical performances in Seattle and across the Pacific Northwest (and beyond). 
LaVon's first love is jazz. But it wasn't the sound she first knew. Growing up in a Baptist congregation in Boston, LaVon was saturated with gospel music. As a young adult, she trained in opera and musical theater and went on to perform with the Boston Lyric Opera and many other dramatic and musical theaters across the country.
Today, LaVon sings the songs that tell stories, from the worlds of soul, R&B, classical, sacred, and pop – and gives them new life and energy from a jazz perspective. And she is more frequently mixing in her own evocative original compositions.
Audiences come back to hear her again and again. LaVon's glossy, warm tone and infectious stage presence make her a surefire booking for concert series and festivals and a highly anticipated performer for corporate events, private parties, house concerts, and weddings. 
LaVon was a featured performer at the 2009 Festival of World Sacred Music in New Delhi, India. In 2016, she won the Seattle-Kobe Sister City Jazz Vocalist Audition at Dimitriou's Jazz Alley, which took her on three-city performance tour of Japan. And she was the Earshot Jazz 2017 Vocalist of the Year.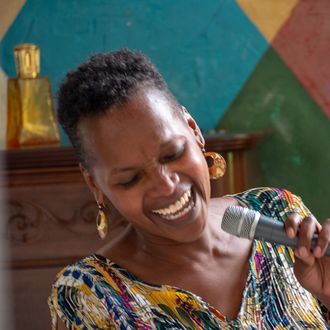 Select Past Venues
Brecon Jazz Festival (Wales)
World Festival of Sacred Music (New Delhi, India)
Earshot Jazz (Seattle)
Kobe Jazz Vocal Queen Concert (Japan)
Seattle Art Museum
World Sacred Music Festival (Olympia)
KNKX Studio Sessions
Bellevue Jazz & Blues Music Series
Washington Center for the Performing Arts (Olympia)
Alderbrook Resort (Union, WA)
Vashon Center for the Arts (Vashon, WA)
Town Hall Seattle
0:00/3:47

0:00/3:24

0:00/7:12

0:00/2:53

0:00/4:34

0:00/3:56