The New Traditions concert in March was sold out! For those of you who came out to that show, thank you so much! It was a lot of fun -- one of the highlights of the show for me was the opportunity to have wonderful singer-songwriter Cyd Smith open. You can learn more about her here. I also had an opportunity to perform with Cyd again at the beginning of the month in Jackstraw's Singer-Songwriter showcase. Cyd and I performed acoustic versions of songs from my new EP Earthseed! You can catch our set on Youtube.
Correction:
In my last email to ya'll I mentioned that New Traditions in Olympia was no longer having live performances in their space. Thankfully, this is not true. Live performances will still be going on at New Traditions and that wonderful space is available for rental if you are looking for space for a special event.
Projects
Earthseed is available! This 5-song EP can be found on my website and Bandcamp. Rainy Day Records in downtown Olympia is also carrying it. This project was produced by Tim Kennedy. Thank you to Jack Straw Artist Support Program for the residency that allowed me to record in their facility. I am very proud of this project. My inner songwriter finally got let off the leash and got to run around. This collection is not jazz per se, but it does have jazz influences and if you've been following my music, I think you'll see it as a natural evolution. I hope you enjoy it; I would love to hear what you think!
Patreon
The Earthseed EP is the first chapter of my new musical book and I could use your help. I am working on new songs, and I want to do more recordings of my original material and some themed shows that I'll talk about later. Would you support me financially on Patreon? Your modest contribution would be a great help to make this happen. My Patreon account will be live on April 14th and I'll send more details then.
Workshop
I am delighted to be teaching a workshop with Rev. Patric Creelman called Your Poems, Your Prayers: Giving Voice to Your Listening.  We'll come together for four evenings centered around prayer, reflection, writing, silence, music, and sharing poems to inspire you on our spiritual journey. Let's share our favorite poems and prayers and write new ones as we explore what our souls have to say.
When: Wednesdays, Apr 26-May 17, 6:30-8:00 pm PT
Location: Center for Spiritual Living Fellowship Hall, 6318 Linden Ave North, Seattle (this is an in-person class)
Learn more and Register here: http://bit.ly/3MrCryW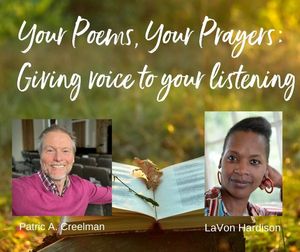 Select Upcoming Gigs:
April 17th: Brother Dom's, Bremerton 6-9 pm
April 26th: Your Poems, Your Prayers: Giving Voice to your Listening with LaVon Hardison and Patric Creelman, at Center for Spiritual Living, Seattle 6:30-8pm (first of four weekly workshops)
May 14th: A Musical Celebration of Mother's Day with LaVon Hardison and Chava Mirel, at Center for Spiritual Living, Seattle 6:30-8 pm